Video footage released by the non-governmental organisation BVM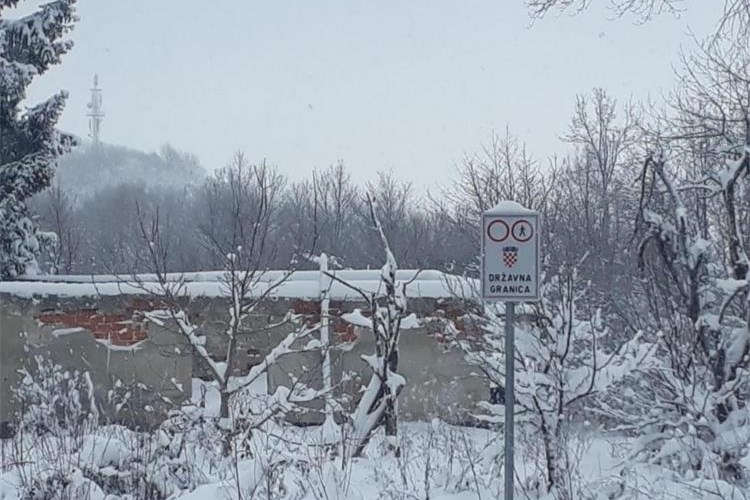 The Ministry of the Interior of the Republic of Croatia calls upon international and non-governmental organisations participating in humanitarian work with migrants Das kroatische Innenministerium appelliert an die internationalen Organisationen sowie an die NGOs
Photo: illustration
As in previous cases, when there was such a possibility, the Ministry of the Interior of the Republic of Croatia examined the locations where the recorded events took place as well as the actions taken by the Croatian police. It has been established that the actions taken by the Croatian police on the territory of the Police Administration Ličko-senjska on the very border line with Bosnia and Herzegovina were in line with the law.
The Croatian police were not "expelling hundreds of migrants to Bosnia and Herzegovina" but rather, applying the institution of deterrence directly on the green border. The institution of deterrence is laid down in Article 13 of the Schengen Borders Code and applies to areas between two border crossing points open for international traffic or, in this case, between the Republic of Croatia and Bosnia and Herzegovina.
This is a legal measure that can be used by border police forces of European countries and that is applied to persons who try to enter their territory illegally at places other than border crossing points.
We would like to emphasize that the event at hand is in no way related to "expulsion" which is laid down by the Aliens Act and is significantly different from the institution of "deterrence" laid down by the aforementioned Schengen Borders Code.
Once again, we would like to point out that the Croatian police acts exclusively in line with the valid regulations while complying with all high standards in the area of fundamental human rights. Furthermore, we decisively dismiss the claims on the "expulsion of hundreds of migrants".
Uncontrolled entrance of a large number of persons into the Republic of Croatia would turn it into a hotspot. Under no circumstances will the Ministry of the Interior allow this to happen; rather, we will use all measures and mechanisms available for the protection of the state border, under national and EU legislation. In addition, attempts made by a large number of persons to enter the Republic of Croatia illegally raises a question related to the lack of control over their exit from Bosnia and Herzegovina.
Once again, we would like to call upon all organisations to take action https://mup.gov.hr/?id=283165
If any non-governmental organisation wishes to analyse the actions of the Croatian police, it should inform the police of all relevant information without delay, so that all measures could be taken promptly and in line with the principles of criminology. All else leaves space for manipulation and misinterpretation of circumstances related to any event.
In each individual case, this Ministry carefully examines all available information on potential accusations made regarding the alleged use of force or criminal offences committed against migrants. No abuse of powers by police officers against migrants has been recorded so far.
The efforts invested by the Croatian police in preventing irregular and secondary migration and the manner in which it controls and protects its border, which is also the longest external border of the European Union, are in line with the conclusions made by the relevant bodies of the European Union. The said efforts are also recognised by those EU Member States which are the final destination of economic migrants and which, precisely due to the efficiency of the Croatian police, are not exposed to a large influx of migrants.
The Croatian police persists in protecting its state border, that is, the border of the European Union, as well as maintaining the security of all Croatian and EU citizens.

DEUTSCH
In Bezug auf die veröffentlichte Aufnahme der Nichtregierungsorganisation Border Violence Monitoring über die angebliche "Ausweisung" von irregulären Migranten aus der Republik Kroatien nach Bosnien und Herzegowina, möchte das Innenministerium der Republik Kroatien das Folgende erklären:
Wie bereits in früheren Fällen, bei denen die Möglichkeit bestand, die Kontrolle durchzuführen, hat das Innenministerium der Republik Kroatien die Standorte, an denen die Aufnahmen entstanden sind, sowie das Vorgehen der kroatischen Polizei überprüft. Es wurde festgestellt, dass es sich um legale polizeiliche Maßnahmen direkt auf der Grenzlinie mit Bosnien und Herzegowina auf dem Gebiet der Polizeidirektion ličko-senjska handelt.
Es geht nicht um die "Ausweisungen von Hunderten von Migranten nach Bosnien und Herzegowina", sondern um das Vorgehen der kroatischen Polizei direkt auf der grünen Grenze und die Anwendung der Abschreckungsmaßnahme. Die Abschreckung ist im Artikel 13 des Schengener Grenzkodexes festgelegt und kann auf dem Gebiet zwischen zwei für den internationalen Verkehr geöffneten Grenzübergängen angewendet werden, in diesem Fall zwischen der Republik Kroatien und Bosnien und Herzegowina.
Es geht um eine legale Maßnahme, die den Grenzpolizeien der europäischen Staaten zur Verfügung steht und auf Personen, die illegal und außerhalb der Grenzübergänge in ihr Gebiet einzudringen versuchen, angewendet wird.
Wir betonen den wesentlichen Unterschied zwischen der Maßnahme der "Abschreckung", vorgeschrieben durch den vorgenannten Schengener Grenzkodex und der Maßnahme der "Ausweisung", vorgeschrieben durch das Ausländergesetz, und worum es in diesem Fall nicht geht.
Wir betonen nochmals, dass die kroatische Polizei ausschließlich im Einklang mit den gültigen Vorschriften handelt und dabei alle hohen Standards der Grundmenschenrechte beachtet. Wir weisen die Vorwürfe über die "Ausweisung von Hunderten von Migranten" entschlossen zurück.
Der unkontrollierte Eintritt einer größeren Personenanzahl würde die Republik Kroatien in ein Hot-Spot verwandeln, was das kroatische Innenministerium auf keinen Fall erlauben wird, sondern wir werden alle möglichen Maßnahmen, die uns aufgrund des nationalen und EU-Rechts zur Verfügung stehen, anwenden. Gleichzeitig stellt der Versuch des illegalen Eintritts einer größeren Personenanzahl in die Republik Kroatien auch die Frage ihres unkontrollierten Ausgangs aus Bosnien und Herzegowina.
Wir appellieren nochmals an alle Organisationen https://mup.gov.hr/?id=283165
Falls das Ziel irgendeiner Nichtregierungsorganisation ist, das Handeln der kroatischen Polizei zu prüfen, dann muss die Polizei über alle wesentlichen Erkenntnisse unverzüglich informiert werden, damit alle Maßnahmen gemäß den Regeln des kriminalistischen Berufes schnellstens durchgeführt werden können. Alles andere eröffnet nur den Spielraum für Manipulationen und falsche Interpretationen der Umstände von irgendeinem Ereignis.
Alle zugänglichen Informationen über mögliche angebliche Vorwürfe über die eventuelle Anwendung von Gewalt gegenüber den Migranten oder das Begehen von Straftaten zum Schaden der Migranten, wird vom kroatischen Innenministerium in jedem einzelnen Fall gründlich überprüft. Bis jetzt wurde in keinem Fall festgestellt, dass kroatische Polizeibeamte die Ausübung ihrer Befugnisse gegenüber den Migranten überschritten haben.
Die Bemühungen der kroatischen Polizei zur Verhinderung von irregulären und sekundären Migrationen und die Vorgehensweise zur Bewachung und zum Schutz der Grenze, die zudem die längste Außengrenze der Europäischen Union ist, folgen den Schlussfolgerungen der relevanten EU-Behörden und sind anerkannt von den Mitgliedstaaten, die als Endziel der Wirtschaftsmigranten gelten und gerade dank der effizienten Arbeit der kroatischen Polizei nicht einem größeren Zustrom von Migranten ausgesetzt sind.
Die kroatische Polizei bleibt entschlossen bei dem Schutz der Staatsgrenze und Grenze der Europäischen Union, sowie bei der Wahrung der Sicherheit aller kroatischen und EU-Bürger.
Page