International Donors' Conference on humanitarian demining in Ukraine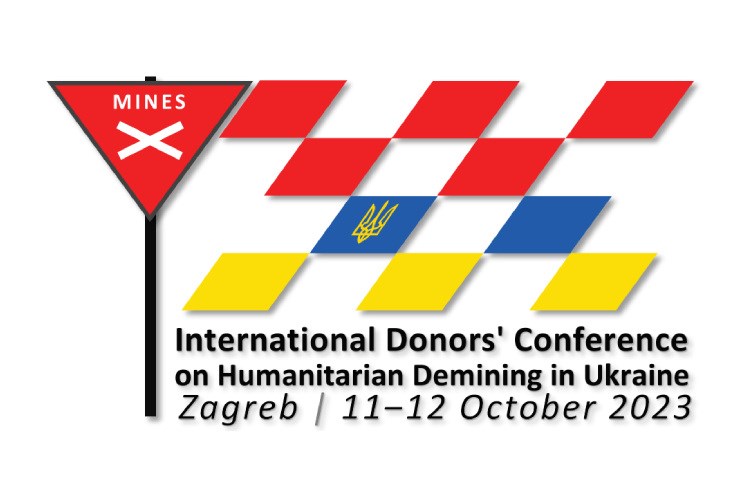 CROATIAN VERSION
The International Donor Conference on humanitarian demining in Ukraine will be held at
Westin Hotel Zagreb
on
11 and 12 October 2023.
The objective of the Conference is to ensure financial donations and other pledges from countries participating at the Conference for the purpose of humanitarian demining in Ukraine.
The Conference will be opened by Prime Minister of the Republic of Croatia Mr Andrej Plenković and Prime Minister of Ukraine Mr
Denys Shmyhal
. We also expect some highest officials from Member States and the European Commission to make opening statements.
The first day of the Conference will be dedicated to discussions between the ministers responsible for demining who will be able to present specific pledges and contributions for humanitarian demining in Ukraine on behalf of their governments. One of the participants in the ministerial part of the Conference will be Ukrainian Minister of Internal Affairs Mr Ihor Klymenko.
The second day of the Conference is foreseen for technical discussions between experts from countries participating at the Conference. This will also be an opportunity to present internationally renowned Croatian companies which manufacture demining machinery.
PARTICIPANT REGISTRATION
Please note that the organizer will only consider applications from persons who have received an invitation or have been delegated by the recipient of the invitation to participate in the Conference
Apply using the registration form:
* Required fields
DONATION ACCOUNT NUMBER
The individuals and corporate representatives who will not participate at the ministerial level of the Donor Conference on humanitarian demining in Ukraine are kindly invited to present their financial contributions for the purpose of supporting demining activities in Ukraine towards the following donations account:
HR 12 1001 0051 8630 0016 0
, reference number:
HR68 5460 – OIB of the payer
(for payers from the Republic of Croatia).
Donations made from
outside the Republic of Croatia
are paid to the state budget account:
BANK NAME AND ADDRESS:
Croatian National Bank
Trg hrvatskih velikana 3
10000 Zagreb, Croatia
BIC (SWIFT) CODE:
NBHRHR2X
RECIPIENT NAME AND ADDRESS:
Ministry of Finance of the Republic of Croatia
Katančićeva 5, 10000 Zagreb, Croatia
ACCOUNT NUMBER:
IBAN: HR12 1001 0051 8630 0016 0
REFERENCE:
HR68 5460 - Financial contribution for humanitarian demining in Ukraine

LOGISTICS AND ACCOMMODATION INFORMATION
ACCOMMODATION RESERVATION
The conference will be held at the
Westin Hotel, Zagreb, Krsnjavoga 1, Zagreb 10000, Croatia
Reservation link at the Westin Hotel